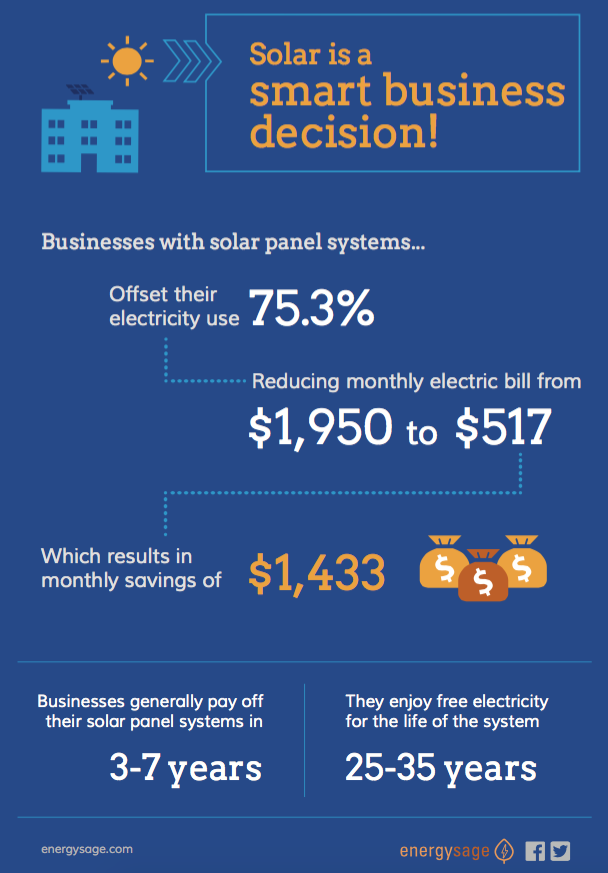 If you're a business owner, the concept of "solar panels for businesses" might seem like a risky move in a complex and confusing market.
     However, businesses of all sizes are capitalizing on the financial opportunities of installing solar, proving that a solar energy system is a key strategic decision that virtually guarantees a solid financial return for your business. According to EnergySage marketplace data, the average commercial property owner paid $1,950 in monthly electricity bills before going solar. After their installation, their electricity bill was reduced to approximately $500 ­­– a 75% reduction.
And the price of buying and installing solar panels has dropped considerably in the last five years while electricity prices continue to skyrocket, making the economics of solar even more attractive. Installing solar panels can also help your business to hedge against electricity inflation. With solar technology you can lock in electricity prices and reduce reliance on an unpredictable expense.
Going solar makes it easier for companies to budget and plan for the future. With competitive financing options availble, finding an affordable fincnail investment for your business is a phone call away